I don't know about you, but the plans I had established for the growth and scale of my business going into 2020 have pretty much evaporated as a result of this coronavirus pandemic that has swept our nation.
Abraham Lincoln, 16th President of the United States is acknowledged for saying, "the best way to predict the future is to create it."
While we may not know fully what the exact outcome will be as we slowly emerge from the coronavirus economy into a new economy, one thing we can do is start to imagine and create a potential future for ourselves and our businesses. This means it's time to start making a new set of assumptions from which to create that future.
An assumption analysis helps you plan better
Every day, as small business owners and entrepreneurs, we make decisions based on assumptions. And, for the most part, we do so without paying attention to how these assumptions impact our business decisions.
The tricky thing about assumptions is that they are, what I call, the invisible decision-makers.
---
"Assumptions are the drivers behind your decisions."
---
Essentially, this means you must bring your assumptions into plain sight by getting them out of your head and onto paper if you want to ensure that your business survives during this coronavirus economy.
Let me reiterate. Every day we make assumptions. Yet, when it comes to maintaining and managing your business, especially during a time of unforeseen crisis, identifying underlying assumptions is an often overlooked exercise.
Assumptions are closely tied to risks
But here's the thing about these pesky invisible decision-makers…
Assumptions are closely tied to risks. Assumptions can start out as relatively low-level risks, however, if your assumptions turn out to be false they can quickly turn into high-level risks. (aka… not so good.)
The difference between an assumption and a risk depends on whether you think there is a high or low probability of the assumed event occurring.
Assumptions like risks are usually associated with the greatest unknowns (i.e., what will happen as a result of the coronavirus) or areas of complexity about your business and can turn into obstacles if they are not recorded, tracked and validated.
Furthermore, untrue assumptions can become issues for you and must be resolved as soon as possible. Otherwise, you might be facing a business rescue or turnaround situation.
Take these steps to create an assumption analysis
Identifying your assumptions is critical to the planning process in business. By identifying your assumptions, you give yourself the runway to effectively define your plan with your eyes wide open and allow you to circumvent risk variables that can potentially impact the results of your plan.
As you begin to map out your new plan to combat the impact COVID-19 is having on your business (and you should be mapping out a new plan), consider the assumptions you are making. Follow these five steps by doing an assumption analysis: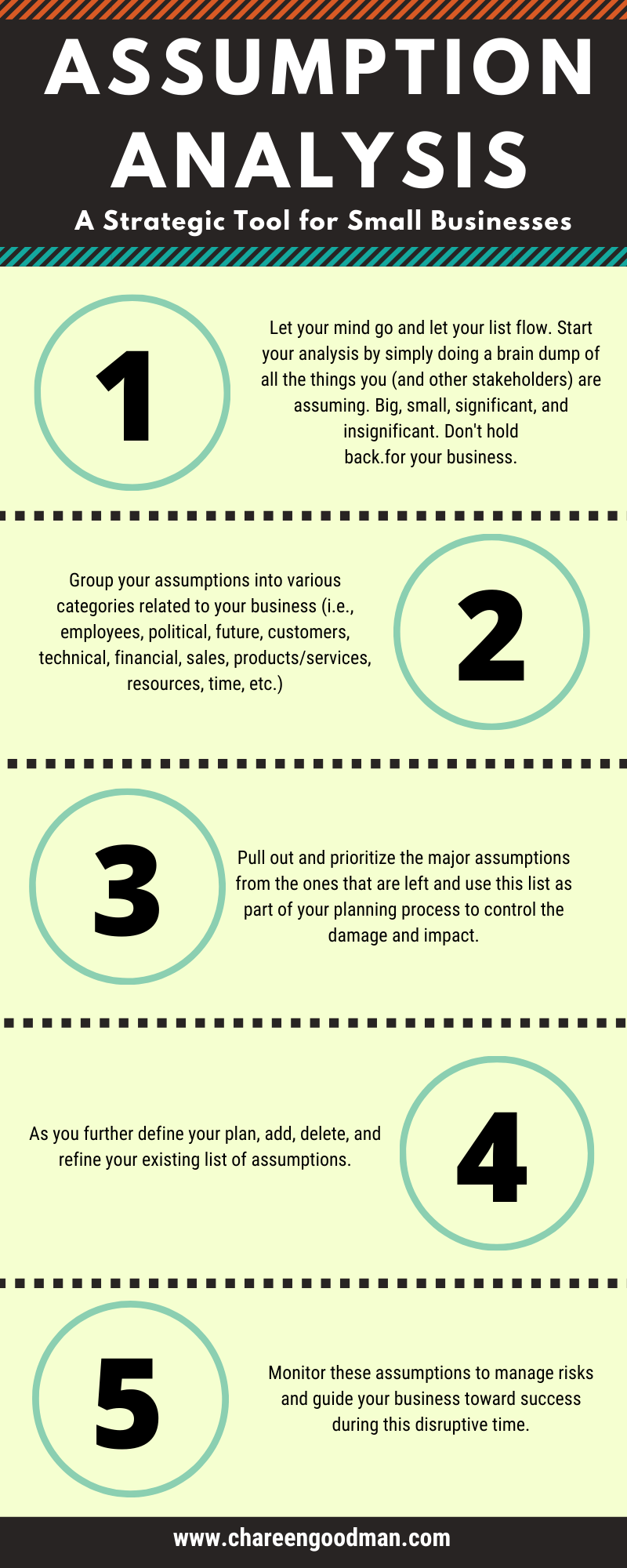 Carving out time to analyze your assumptions is an important step to take at this time because your assumptions, whether you are aware of them or not, are driving your decisions.
#Assumptions #Strategy #Leadership  #SmallBusinessOwner #TakeAction #SmallBusiness #ChareenGoodman #coronavirus #COVID19
Latest posts by Chareen Goodman
(see all)