Mastering Market Intelligence: Understanding Your Competitive Landscape as a Coach
And Using ChatGPT to Help
In today's competitive coaching industry, staying ahead of the game requires a deep understanding of your competitive landscape.
Knowing who your competitors are, their strengths and weaknesses, and the trends taking place and shaping the market can give you a significant advantage.
In this blog post, let's explore the importance of market intelligence in coaching and discuss how ChatGPT can help you in mastering this crucial aspect of your business.
What is Market Intelligence?
Market intelligence refers to the collection and analysis of information about the market, competitors, customers, and industry trends. It helps businesses make informed decisions, identify opportunities, and stay ahead of the competition.
Market intelligence is defined as the information or data that is derived by an organization from the market it operates in or wants to operate in, to help determine market segmentation, market penetration, market opportunity, and existing market metrics.

QuestionPro.com
In the context of coaching, market intelligence involves understanding the current state of the coaching industry, the different coaching niches, and the strategies employed by other coaches.
Why is Market Intelligence Important in Coaching?
Market intelligence plays a pivotal role in the field of coaching, enabling coaches to stay informed, relevant, and successful.
By thoroughly understanding the market, coaches can identify trends, opportunities, and challenges that impact their coaching practices.
With this knowledge, they can refine their coaching strategies, tailor their services to meet clients' evolving needs, and effectively position themselves in a competitive industry.
When armed with market intelligence, the data can help empower you to create targeted marketing campaigns, build strong client relationships, and make informed business decisions that ultimately lead to sustainable growth and long-term success in your business.
Here are three specific ways market intelligence plays a role:
Identifying your target audience: Market intelligence helps you understand who your potential clients are and what they are looking for in a coach. By identifying your target audience, you can tailor your coaching services and marketing efforts to meet their specific needs.

Understanding your competitors: By analyzing your competitors, you can gain insights into their coaching approaches, pricing strategies, and marketing tactics. This information can help you differentiate yourself and position your coaching services uniquely.

Spotting market trends: Keeping an eye on market trends allows you to identify new opportunities and anticipate changes in the coaching industry. By staying ahead of these trends, you can adapt your coaching services to meet evolving client demands.
Leveraging ChatGPT for Market Intelligence
Artificial intelligence and natural language processing have revolutionized the way businesses collect and analyze data.
OpenAI's ChatGPT is a state-of-the-art language model that can assist coaches in mastering market intelligence.
Here's how you can leverage ChatGPT to gain a competitive edge:
1. Competitor Analysis
ChatGPT can help you analyze your competitors by providing insights into their strategies, strengths, and weaknesses.
By inputting information about your competitors, you can ask ChatGPT questions like:
"What are the strengths of Coach X compared to other coaches in the industry?"
"What are the weaknesses of Coach Y that I can exploit?"
"What marketing strategies have been successful for Coach Z?"
ChatGPT can provide you with detailed answers based on the information it has learned through training on a wide range of data sources.
2. Market Trends and Client Demands
Staying updated with the latest market trends and client demands is crucial for success in coaching.
ChatGPT can assist you by providing insights into:
Emerging coaching niches and areas of high demand.
Popular coaching techniques and methodologies.
The impact of technological advancements on coaching.
By asking ChatGPT questions like:
"What are the current trends in the coaching industry?"
"What coaching niches are expected to grow in the next five years?"
"How can technology enhance the coaching experience?"
You can gain valuable insights to inform your coaching strategies and stay ahead of the curve.
3. Tailoring Coaching Services
ChatGPT can help you tailor your coaching services to meet the specific needs of your target audience. By asking questions like:
"What are the common challenges faced by executives in the finance industry?"
"How can I structure my coaching programs to address the needs of working parents?"
"What are the most sought-after skills in the IT industry?"
ChatGPT can provide you with valuable information to customize your coaching services and attract the right clients.
That's a Wrap!
Mastering market intelligence is essential for success in the coaching industry.
By understanding your competitive landscape, you can identify opportunities, differentiate yourself from competitors, and tailor your coaching services to meet client demands.
ChatGPT can be a powerful tool in your market intelligence toolkit, providing you with valuable insights into competitors, market trends, and client needs.
Embrace the power of AI and leverage ChatGPT to stay ahead in the game and excel as a coach.
💛
---
Ready to gather the market intelligence you need for your business success?
Gain the skills, strategies, and AI-driven insights that will propel your business to new heights of success and innovation.
Don't miss out on our game-changing
7-Week Business Accelerator Program:
Business Differentiation Mastery Leveraging AI and ChatGPT
Whether you're a coach, consultant, or solopreneur, this program will equip you with the tools to differentiate yourself, attract your ideal clients, and dominate your market.
Enrollment is now open, but spots are limited. Take action now and secure your spot to position you and your business for future success.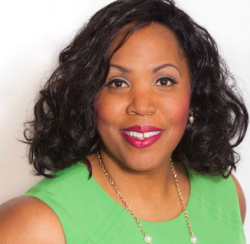 Latest posts by Chareen Goodman
(see all)